The Chase: Shaun 'The Dark Destroyer' Wallace's hilarious wrong answer leaves Bradley Walsh in hysterics
Publish Date

Monday, 13 November 2023, 9:45AM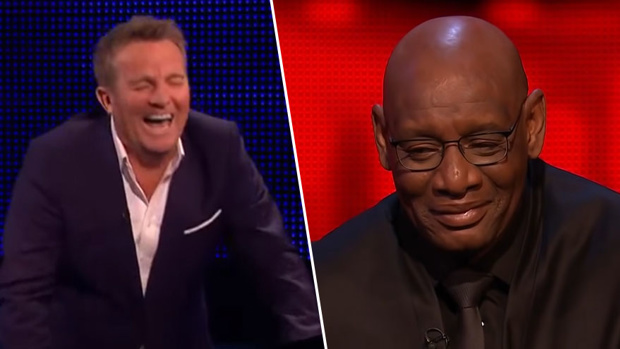 The Chasers are some of the smartest people on TV - but everyone makes mistakes sometimes...
An embarrassing wrong answer from Shaun 'The Dark Destroyer' Wallace left The Chase host Bradley Walsh darting across the studio in hysterics.
This episode once again welcomed four new players, Armin, Sally, Karen and Ryan, on the show for their chance to take on a chaser and take home the cash prize.
Ryan, 24, was asked, "What animal was reportedly used to lay cables around Buckingham Palace for the broadcast of Charles and Diana's wedding?"
He was given the answers: a mole, a ferret and a badger to pick from, to which he chose the ferret.
Bradley quickly teased him about his choice as he laughed: "Can you imagine a mole taking the cables through?"
"It's not that, it's seeing him come through the hole like 'Where do you want this lad? Anyone got my gloves? Right Baz, put that down… ma'am'.
Ryan argued, "Do you know how big a cable is?" "They used to use ferrets to do that."
Bradley replied, "Yes, but you know what, they would've attached a string for a pull-through.
"You can't attach - look at that! You can't attach that to a ferret, by the time the ferret's gone four feet, he would be like [gasping for breath]."
The host then confirmed that the correct answer was a ferret, before revealing that the Dark Destroyer's answer was a mole, and at that point, Bradley couldn't believe it as he broke out of character and ran off the set in tears of laughter.
While trying to contain his laughter, he clarified with the chaser, who was trying to keep a straight face, that the answer couldn't be moles as they were partially blind.
The contestants could also be seen laughing as Ryan's teammate Karen wiped her tears, and Bradley continued chuckling away.
Watch the full clip below! Skip to 1:30 if you just want to see this question.

Take your Radio, Podcasts and Music with you