Who Wants to Be a Millionaire contestant misses out on £93,000 after 'phone a friend' fail
Publish Date

Thursday, 8 April 2021, 5:47PM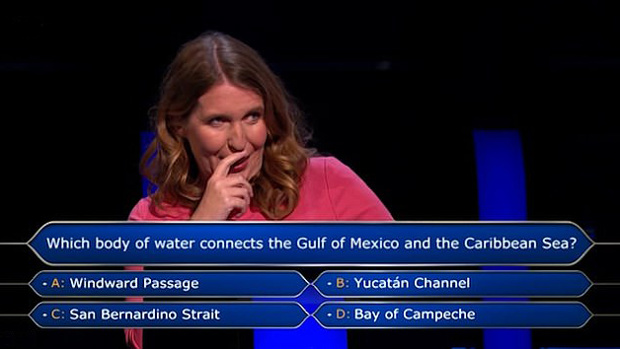 Solicitor Sarah Knapper missed out on a staggering £93,000 on Who Wants To Be A Millionaire this week after she got the wrong answer to a simple geography question.
Viewers were left on the edge of their seats as Knapper was asked the question for £250,000 during her time in the hot seat opposite host Jeremy Clarkson.
Knapper was asked: "What body of water connects the Gulf of Mexico and the Caribbean?"
Her potential answers were: A. Windward Passage B. Yucatan Channel C. San Bernardino Strait D. Bay of Campeche.
Unsure of the answer, Knapper used her 'phone a friend' lifeline to ask her friend Barbara, who suggested Windward Passage as the answer.
However, the contestant's gamble didn't pay off, with the correct answer being the Yucatan Channel.
READ MORE:
• Jeremy Clarkson opens up about the scare that made him quit smoking
• The Chase's Shaun Wallace gets hilariously roasted after getting basic maths question wrong
After storming through the first seven questions in just 15 minutes, Knapper had previously used her 'Ask the Host' and ' 50/50' lifelines on a question about the year of Concorde's last commercial flight.
Agonisingly, she walked away with just £32,000 thanks to her safety net - despite answering the prior question worth £125,000 correctly.
Take your Radio, Podcasts and Music with you