Watch this Kiwi dad's incredible haka proposal and gender reveal in Queenstown
Publish Date

Wednesday, 5 December 2018, 4:36PM
One romantic Kiwi has shown the world how to pull off the perfect 10-year anniversary surprise.
University of Waikato lecturer Tama Hata pulled out all the stops for an anniversary weekend away with his partner Te Waimaarino Patena, surprising her with not only a gender reveal of their second child together, but an incredible haka proposal.
During their trip to Queenstown with their 3-year-old daughter Te Aroha, Hata found the courage to go ahead with his plan of giving his partner the best proposal he could dream of, honouring both his ancestors and the couple's future together.
Captured on video, Tama first gave Te Waimarrino Patena a box to open, filled with adorable blue baby clothes, signifying that they are expecting a baby boy.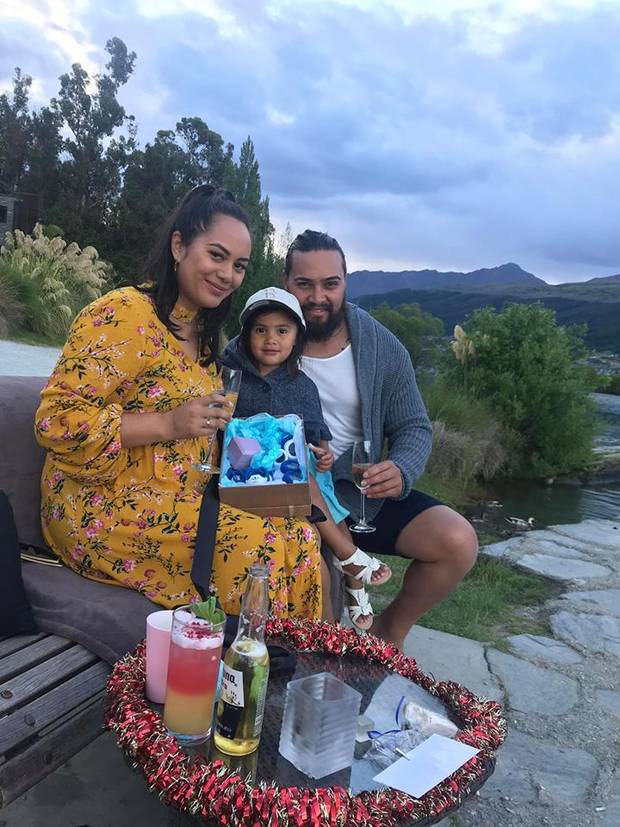 The happy couple with little Te Aroha and the box that revealed they are about to have a boy. Photo / Facebook
Next Tama performed a haka for his partner, including some beautiful words in te reo Māori, which in english translates to: "Come to me, to my heart! Always and forever, Binding us together."
"She was mindblown," Tama told the NZ Herald. "She's a shy person so when I started my haka she was looking at me like she kind of wanted me to tone it down, you know. But then she started hearing the words."
But it didn't stop there!
After performing his heart-felt haka, Tama got down on bended knee, holding out an engagement ring for Te Waimaarino Patena.
READ MORE: 
Nervous, Hata ended up putting the ring on the wrong finger but that's only going to stay as a funny anecdote in an otherwise remarkable one-of-a-kind proposal.
Oh and, obviously, she said yes.
Tama Hata's Haka Proposal
The beginning is called a manawawera, it talks about the chief (who was a warlord) of the area Hata comes from, who goes by the name of Tūtāmure of the East Coast Ōpōtiki region of Te Whakatōhea.
Te tangata nāna i noho whakarua kārangaranga te muri ka tutū ngā tamatea o te moana. Ko au, ko au tēnei ko Tūtāmure!
E hine whakarongo mai rā ki ahau, Whakarongo mai rā ki Te Waiwhakaruku e kukume mai nei i ahaha.
O chosen one listen to me, Listen to Te Waiwhakaruku The man pulling you in.
Tuia koa te rangi e tū iho nei, Tuia koa te papa e takoto mai nei. Kā noa mai ki Rangimatanui rā ia te whakapai.
Let us bind the sky above To the earth below. The approval of my ancestors at Rangimatanui brightens up the night sky.
Awhi mai ō ringa ki taku manawa, E kore au e tukuna koe kia tahanga mōwai.
Hold my heart tight and I will never leave you desolate.
Haramai ki ahau ki Te Waiwhakaruku, Haramai ki ahau ki taku manawa! Mō ake, ake, ake tonu atu e. Tuia, tuia, tuituia!
Come to me, to Te Waiwhakaruku, Come to me, to my heart! Always and forever, Binding us together.