Stephanie Jones Book Review - The Rooster Bar
Publish Date

Wednesday, 25 October 2017, 4:08PM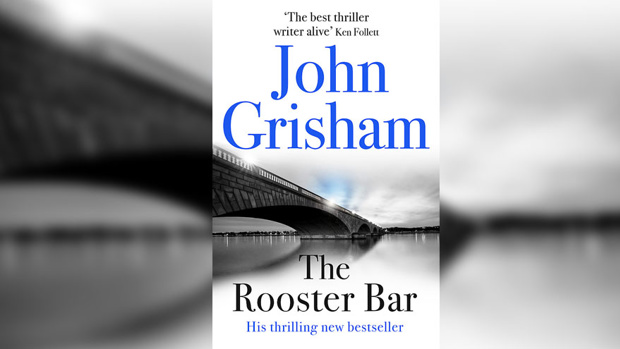 Author

By Stephanie Jones
John Grisham, one-time attorney and long-time writer of legal thrillers, has found dozens of ways to manifest the law for dramatic effect: there's the tyro who uncovers the rotten heart of a law firm in The Firm; the badass who takes on cases no one else will in Rogue Lawyer; the endearing, inventive young adult series starring kid lawyer Theodore Boone.
In The Rooster Bar, the most important action takes place in Washington DC, Senegal and Barbados, involving three protagonists – legally named Mark Frazier, Todd Lucero and Zola Maal, though this will change – who stumble upon a massive financial scam involving several subpar law schools.
A billionaire is running a nationwide racket that drives young people, regardless of academic ability, to rack up student loans that they only have a hope of paying back if they pass the bar and land a swell job – and the chances of both happening to one person are in the low double figures, unlike their debt, which between the trio totals well over half a million dollars. Of all the student debt accumulated annually, the billionaire is taking a hefty cut.
It's a decent premise that Grisham says was inspired by a 2014 article in The Atlantic, and once upon a time the author would have made a superb fist of it. Not right now, though: The Rooster Bar is confused and confusing, with at least two competing narratives and no clear voice.
The three friends learn of the conspiracy to defraud many of the nation's law students through a fourth student, whose tragic end is a sobering and touching reminder of the real cost of poor mental health. But where a particular plotline is expected, another one emerges, and rather than generating suspense it inflicts a stranglehold on the novel's pace and sense of mystery. And while dialogue has never been Grisham's strongest suit, an unforgivable number of conversations in The Rooster Bar are expository and like nothing you would expect to hear – even among the dreariest of law-minded dullards – in real life. When an ambulance-chasing lawyer arrives bearing the name Rusty Savage, it's hard to shake the notion that Grisham is phoning it in.
In recent years, Grisham's work has been a mixed bag: A Time to Kill is still a powerful, and impassioned, depiction of morality, and the death row novel The Confession is hold-your-breath devastating, but 2014's Gray Mountain was notably inferior, and other novels have fallen somewhere in between these poles. The Rooster Bar is one for diehards only.
To get in the draw to win one of five copies of The Rooster Bar click here.
Every week Stephanie reviews the Book of the Week.
As the Coast book reviewer, Stephanie Jones shares her thoughts each week on the latest releases.
Stephanie has a BA (Hons) in history and English literature, and a background in journalism, magazine publishing, public relations and corporate and consumer communications.
Stephanie is a contributor to the New Zealand Book Council's 'Talking Books' podcast series (listen here), and a member of the 2016 Ngaio Marsh Award judging panel. She can be found on Twitter @ParsingThePage.

Take your Radio, Podcasts and Music with you