Allyson Gofton - Apricot Tart Tatin
Publish Date

Friday, 3 February 2017, 4:07PM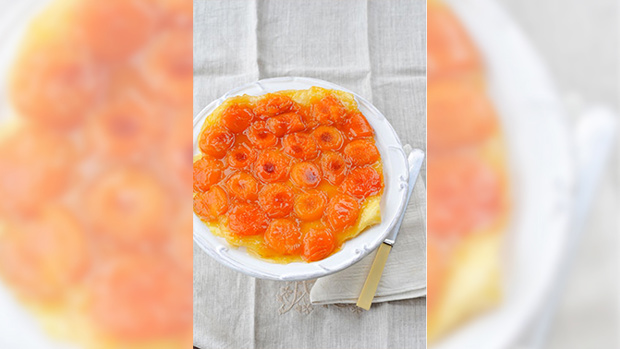 Author

By Allyson Gofton
Apricots, luscious with a balance of sweetness and tartness, are deal to cook with as they hold their shape without falling to mush, unless of course you over-cook them.
Apricots like all stone fruits, will not ripen once picked, so buy fruit that is firm but yields to a little pressure and has a good perfume when sniffed.
Tarte Tatin's story begins in the mid-1800s, when the daughters of the Tatin family were left penniless when their father died. Without a father to earn an income life was more than difficult.  The girls, lived near a train station and apple  trees grew nearby. They would, so the story goes, cook this upside-down apple tart and sell pieces to travellers when they stopped at the station. Somehow they managed to eke out enough money to survive.
Today tart Tatin is synonymous with any tart, ether savoury or sweet that is cooked with the pasty on top though served upside down so the pastry sits underneath. The golden glazed filling, browned from being sautéed or caramlised before oven-cooking is uppermost.
Ingredients
100 grams butter
¾ cup sugar (caster is best)
12-16 apricots, halved and stoned
1 sheet frozen pre-rolled flaky puff pastry, defrosted

Method
Set the rack at the centre or just above the centre of the oven. Preheat the oven to 200ºC.
Heat the butter in a 23-cm ovenproof frying-pan and, when melted, sprinkle in the sugar. Cook over a moderate heat until the sugar melts.
Arrange the apricots in one layer in the pan, cut side up, and keep cooking until a thick amber syrup has formed - this will probably take a good 10 minutes. Once the sugar has begun to caramelise, place the pastry on top of the apricots. Pierce holes in the pastry with a fork.
Bake in the preheated oven for 20 minutes or until the pastry is well cooked. Leave the tart to sit for 5 minutes before carefully turning out onto a serving plate. Allow to cool for a further 10 minutes, as the syrup will be very hot, before serving with lashings of whipped cream.

Cooks Tips
Variation - Use plums or nectarines and try a short pastry in place of puff pastry.
Take your Radio, Podcasts and Music with you