Allyson Gofton - Mediterranean Roast Lamb
Publish Date

Thursday, 26 January 2017, 8:31PM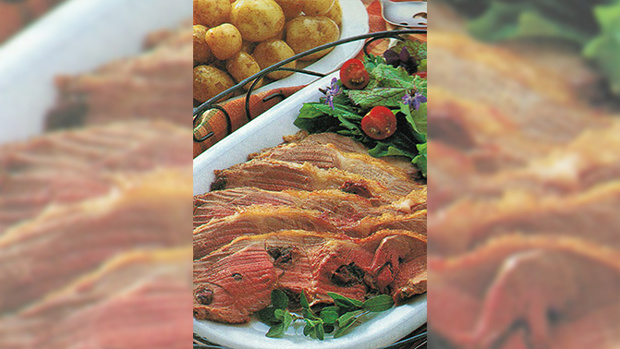 Author

By Allyson Gofton
Buying lamb has certainly changed. Today butchers are well-tuned to our busy loves and  time constraints in the kitchen. The leg of lamb , now  routinely boned out  and called butterfly leg of lamb, cooks quickly to tenderness on a barbecue in summer. It may be more expensive, but it is far easier and quicker to cook.
COAST Tips
Always cook meat from room temperature. For a butterfly leg of lamb, remove from the fridge at least one hour before cooking.
Initially brown both sides of the leg over a hot barbecue , then lower the heat to continue the cooking.
Allow the lamb to rest on a warm plate away from a cool wind. The resting is essential as it allows the fibres to relax and re-absorb the juices. If this is not done, the meat will release too much juice once you begin carving.
Recipe
This butterfly leg of lamb is spiked with sun-dried tomato, olives and oregano, marinated in wine, and roasted until medium-rare makes lamb deliciously special.
Ingredients
20 sun-dried or semi-dried tomatoes, halved
½ cup white wine
1 tsp sugar
1 butterfly leg of lamb
10 stoned black olives, halved
fresh oregano or sage
freshly ground black pepper
garlic salt
Method
Soak the sun-dried tomatoes and white wine in a small bowl for 10 minutes. Drain the tomatoes and reserve the wine. Mix the wine with the sugar and set aside.
Place the lamb skin side down on a large board. Using a sharp knife make 20 incisions evenly over the lamb. Take a halved tomato and place half an olive in the centre and a few sprigs of oregano or a small sage leaf. Push this into one of the incisions. Repeat with remaining tomatoes, olives and herbs.
Place lamb in a dish and pour over the wine. Sprinkle heavily with ground black pepper and season with garlic salt. Stand in the refrigerator overnight or if short of time 1-2 hours.
Place on a rack in a roasting dish. Roast at 190ºC for about 45-50 minutes. Stand 10 minutes before carving.
To Barbecue
Place the prepared and marinated lamb on the grill of a very hot barbecue. Allow the meat to seal, about 10 minutes, before turning over to seal the other side. Lower the lid on the barbecue and continue cooking, turning occasionally for 40-45 minutes.
Take your Radio, Podcasts and Music with you