Allyson Gofton - Mini thai lamb meatballs with mint sauce
Publish Date

Thursday, 8 December 2016, 1:42PM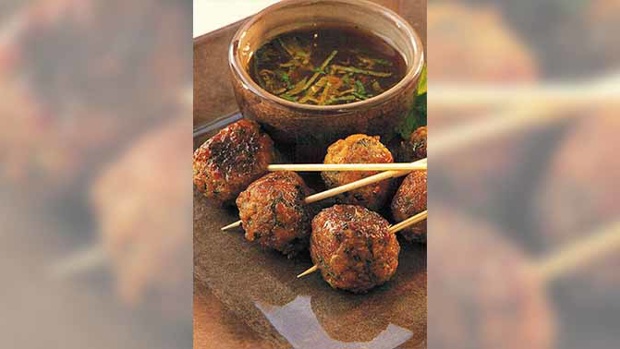 Author

By Allyson Gofton
Summer's food is about quick, easy and delicious. To this end, keeping a collection of curry pastes in the cupboard allows you to create international flavours at the dollop of a spoon.
Beyond red and green Thai curry pastes, try massam, it's a marriage of Indian and Thai flavours originating from generations of Muslim traders to Thailand; yellow curry paste has earthy tones and robust flavours from the large amount of turmeric used in its making and nam prik, is a chill paste flavoured up with peanuts , shallots, dried shrimps and fish sauce.
Ingredients
300 grams minced lamb or beef
2 tsp minced fresh ginger
2 tsp minced fresh garlic
2 tsp minced chilli
2 tbsp each chopped fresh coriander, mint and basil
2 tbsp Asian fish sauce
1 egg
1 cup fresh breadcrumbs
salt and pepper to season
oil for pan frying
2 tbsp honey
Method
Put the minced lamb or beef, ginger, garlic, chilli, coriander, mint, basil, fish sauce, egg and breadcrumbs into a large bowl and mix together well. Season with salt and pepper. Roll tablespoonfuls into even-shaped balls.
Heat sufficient oil to cover the base of a non-stick frying pan and cook the meatballs over an even heat turning regularly until cooked.
Pour off any excess fat and add the honey to the pan and toss to glaze. Serve with the mint sauce.
Mint Sauce
In a bowl mix together 1 tsp minced fresh ginger, 4 tbsp rice wine or cider vinegar, 2 tbsp light soy sauce, 2 tbsp finely chopped fresh mint, 1 tsp sugar and a seasoning of salt and pepper.
Take your Radio, Podcasts and Music with you