Donald Trump broke royal protocol at the banquet with Queen Elizabeth and people are NOT happy
Section

News,

Publish Date

Wednesday, 5 June 2019, 9:44AM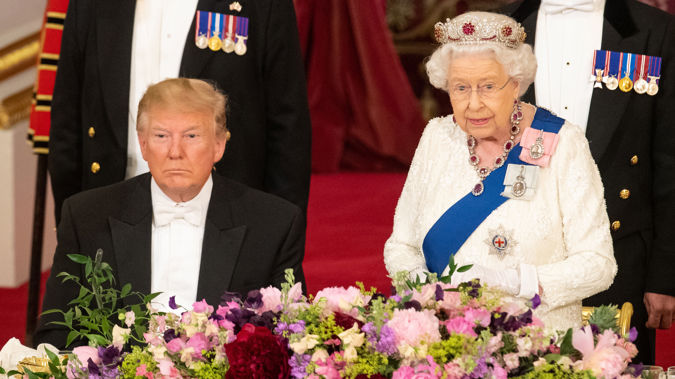 Donald Trump has sparked online criticism for his "disrespectful" failure to follow royal protocol when he met the Queen for his second time.
The US President and his wife Melania Trump - who are currently halfway through their three-day stay in the UK - were the guests of honour at the Queen's State Banquet on Monday evening when he breached rigid royal protocol.
The American leader's faux pas came after he finished his speech at the banquet when he lightly touched the 92-year-old monarch's back.
Video of the moment showed Trump patting the Queen on her back as he thanked her - in what was a serious breach of protocol.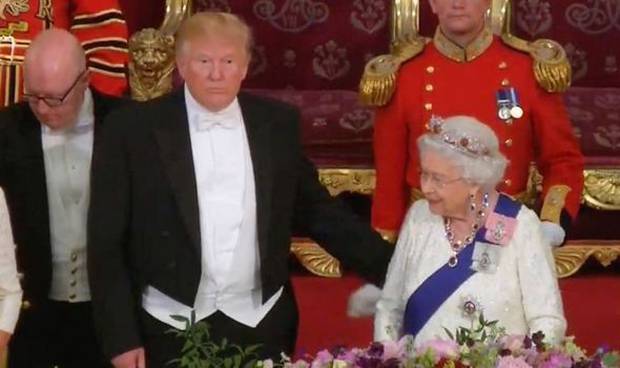 Photo / Sky News
Royal etiquette states that one should never touch the Queen unless she initiates contact.
But apparently, Trump had forgotten the rules or chose not to follow them.
READ MORE:
• Adorable new photo shows Prince George helping Prince William carry the family's groceries into home
• Melania Trump channels Princess Diana with chic outfit during visit with the royal family
The gaffe was quickly picked up on social media, where he was slammed for being 'rude' and 'disrespectful' to the world's longest-serving monarch.
Of course, Trump isn't the only American to struggle with the formal traditions around meeting the royals.
Michelle Obama famously caused a stir when she also broke protocol by touching the Queen, placing her hand on her back, while conversing.
She later explained the Queen had done the same to her prior to the move, and it had simply been a natural part of their conversation.
The Obamas also chose to greet Elizabeth II with handshakes, rather than bows and curtsies.