Elton John writes rare statement defending Prince Harry and Meghan Markle amid private jet criticism
Publish Date

Tuesday, 20 August 2019, 9:28AM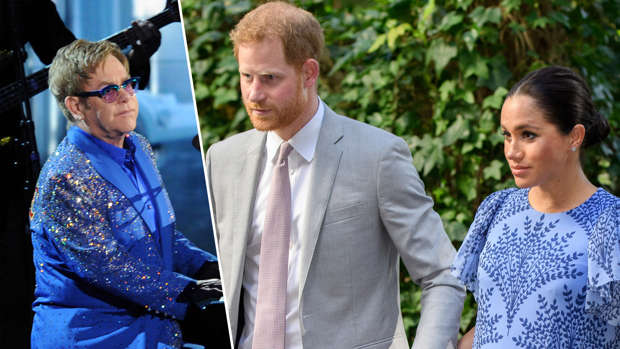 A word of warning for the media: If you come after Prince Harry and Meghan Markle, you're going to have to answer to Sir Elton John.
The Grammy winner has rushed to the defence of the Duke and Duchess of Sussex after they were slammed for taking a private jet to Ibiza and Nice for her 38th birthday.
While the royal couple have a reputation for being "eco-warriors", they have since been labelled as hypocrites for not considering their carbon footprint with the environmentally-damaging flights.
And the 72-year-old musician is royally unimpressed with the criticism.
In a lengthy Facebook post, John revealed that for the trip to Nice - where the couple stayed at the pop star's home with their young son Archie Harrison - he provided them with the private jet flight to maintain a "high level of much-needed security".
John went on to admit that he not only paid for the trip but also donated money to offset the jet's carbon footprint.
"I am deeply distressed by today's distorted and malicious account in the press surrounding the Duke and Duchess of Sussex's private stay at my home in Nice last week," he captioned a picture of the duo meeting with children in New Zealand.
"After a hectic year continuing their hard work and dedication to charity, David and I wanted the young family to have a private holiday inside the safety and tranquillity of our home."
"To maintain a high level of much-needed protection, we provided them with a private jet flight. To support Prince Harry's commitment to the environment, we ensured their flight was carbon neutral, by making the appropriate contribution to Carbon Footprint™," he continued.
"I highly respect and applaud both Harry and Meghan's commitment to charity and I'm calling on the press to cease these relentless and untrue assassinations on their character that are spuriously crafted on an almost daily basis."
While Ellen DeGeneres also jumped to the defence of the royal couple.
Taking to Twitter, the talk show host wrote: "Portia and I met Prince Harry and Meghan in England to talk about their work on wildlife conservation. They were the most down-to-earth, compassionate people. Imagine being attacked for everything you do, when all you're trying to do is make the world better."
READ MORE:
• Prince Harry and Meghan Markle honour Princess Diana with touching post for the first time
• Meghan Markle blasted after secretly redesigning her engagement ring from Prince Harry
The rare statement comes after former royal protection officer, Ken Wharfe - who protected Princess Diana and her sons Prince William and Harry in the '90s - called the Sussexes "hypocritical."
"Harry can't be preaching about the catastrophic effects of climate change whilst jetting around the world on a private plane," Wharfe told Vanity Fair.
"We always flew commercial; in fact, I don't remember flying private. It's no guarantee that the security is any better. You're better off with BA security because they're used to working with VIPs."
Earlier this year, Harry urged the public to "take action" to lower their carbon footprint. 
Speaking in March, he said: "Climate change is a humanitarian issue not a political one, and one where we've been far too slow in waking up to the issues and acting on the damaging impact our ways of living are having on the world.
"We now have the facts, the science, the technology and the ability to save not just our planet but ourselves. You don't just sit back and wait for solutions, you take action and create them."
According to reports, the Duke and Duchess and their three-month-old son Archie flew into the country on August 6 and stayed in a secluded villa away for six days.