Five of the Bee Gees' best-selling albums are being remastered and released on vinyl
Publish Date

Monday, 16 March 2020, 2:52PM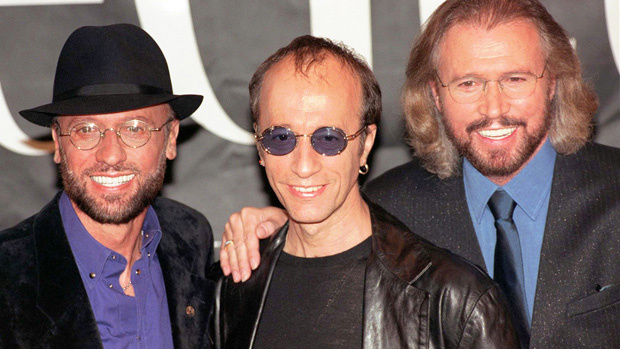 Bee Gees fans get excited ...
Because one of music's most legendary groups is set to release five remastered LPs featuring the trio's biggest hits.
The five LPs, which have been pressed onto both black vinyl and limited-edition coloured vinyl, are in chronological order - starting with 1969's Best Of Bee Gees, 1975's Main Course, 1976's Children Of The World, 1977's double live album Here At Last…Bee Gees…Live and 1979's Spirits Having Flown.
All five albums have been remastered from the original analogue LP master tapes at the iconic Capitol Studios, and are set to be released on May 8.
READ MORE:
• Bradley Cooper is reportedly in talks to play Barry Gibb in upcoming Bee Gees biopic
The five remastered LPs further enhance the recording legacy of the Bee Gees — brothers Barry, Robin, and Maurice Gibb — as one of the bestselling groups ever.
With 22 studio albums to their names and eight GRAMMY Awards, the Bee Gees infused popular culture with dozens of worldwide hit singles that featured their singular and highly influential three-part harmonies.
Barry is the last surviving member of the band after Maurice died at the age of 53 in 2003, following complications from a twisted intestine which led to a cardiac arrest, and Robin's death in 2012 aged 62 after battling cancer and liver and kidney failure.
BEE GEES: BEST OF BEE GEES
Side 1
1. Holiday
2. I've Gotta Get A Message To You
3. I Can't See Nobody
4. Words
5. I Started A Joke
6. Spicks And Specks
Side 2
1. First Of May
2. World
3. Massachusetts
4. To Love Somebody
5. Every Christian Lion Hearted Man Will Show You
6. New York Mining Disaster 1941
BEE GEES: MAIN COURSE
Side 1
1. Nights On Broadway
2. Jive Talkin'
3. Wind Of Change
4. Songbird
5. Fanny (Be Tender With My Love)
Side 2
1. All This Making Love
2. Country Lanes
3. Come On Over
4. Edge Of The Universe
5. Baby As You Turn Away
BEE GEES: CHILDREN OF THE WORLD
Side 1
1. You Should Be Dancing
2. You Stepped Into My Life
3. Love So Right
4. Lovers
5. Can't Keep A Good Man Down
Side 2
1. Boogie Child
2. Love Me
3. Subway
4. The Way It Was
5. Children Of The World

BEE GEES: HERE AT LAST…BEE GEES…LIVE
LP1
Side 1
1. I've Gotta Get A Message To You
2. Love So Right
3. Edge Of The Universe
4. Come On Over
5. Can't Keep A Good Man Down
Side 2
1. New York Mining Disaster 1941
2. Medley: Run To Me / World
3. Medley: Holiday / I Can't See Nobody / I Started A Joke / Massachusetts
4. How Can You Mend A Broken Heart
5. To Love Somebody
LP2
Side 3
1. You Should Be Dancing
2. Boogie Child
3. Down The Road
4. Words
Side 4
1. Wind Of Change
2. Nights On Broadway
3. Jive Talkin'
4. Lonely Days
BEE GEES: SPIRITS HAVING FLOWN
Side 1
1. Tragedy
2. Too Much Heaven
3. Love You Inside Out
4. Reaching Out
5. Spirits (Having Flown)
Side 2
1. Search, Find
2. Stop (Think Again)
3. Living Together
4. I'm Satisfied
5. Until
Take your Radio, Podcasts and Music with you