Meghan Markle's estranged father Thomas reveals he still hasn't seen a photo of baby Archie
Publish Date

Wednesday, 4 September 2019, 3:53PM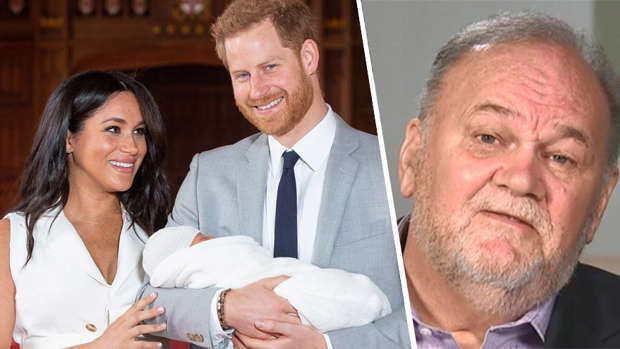 Meghan Markle's estranged father Thomas Markle has been keeping largely out of the spotlight for a few months now ... that was until this week.
In a new interview with the Mail on Sunday, the 75-year-old former lighting director revealed he still hasn't seen a photo of the Duke and Duchess of Sussex's newborn son and is desperate to see the young royal. 
Thomas hasn't seen his daughter since before she married Prince Harry in May 2018 but had hoped that motherhood would have "mellowed" the former actress and she'd have ended their estrangement so he could develop a relationship with his three-month-old grandchild, Archie Mountbatten-Windsor.
"I would like them to send me a picture of Archie so I can frame it and put it on my wall beside the one of Meghan. Isn't that what any grandfather would want? I'd love to know if he's got the famous Markle nose," Thomas said.
"Sometimes I get the feeling people think I don't love my daughter. I do love her very much. I would love nothing more than to put a picture of Archie in a frame and place it beside the one of Meghan.
"There was never any problem between Meghan and me until recently. I've stayed quiet because Meghan was pregnant with Archie but I'm speaking out now because they and their PR people are continuing to ghost me out of her life.
"Of course I'm disappointed not to see Archie. I had hoped becoming a mother would mellow Meghan and she would reach out," he continued.
"I believe all family differences can be resolved and I believe that can still happen for me, Meghan and Harry.
"I always hoped that I would be as close to Meghan's child as I was to her when she was a child."
READ MORE:
• Kingdom Choir singer reveals Prince Harry and Meghan Markle were difficult to work with at royal wedding
• Details of Prince Harry and Meghan Markle's first royal tour with Archie has been announced!
But it wasn't long before Thomas changed the subject to accuse his daughter of lying in a speech in Fiji last year, insisting that her claim she paid her own way through college wasn't true.
He fumed: "I paid every penny of her tuition and I have the bank statements to prove it.
"I'm sick of the lies. I'm sick of being vilified and shut out of their lives.
"I always upheld my responsibilities as a father. Meghan's comments about paying her way through college are offensive to me.
"No father deserves this kind of abuse when he's been that good to his daughter. Ask anyone who knows us both. I've been very kind and generous to my daughter."
The 38-year-old former actress has been estranged from her father since he famously skipped her and Prince Harry's wedding last May amid fallout stemming from the staged photo scandal and him repeatedly speaking about the Sussexes to the press.
Thomas claims he hasn't been able to reach Meghan, alleging that she is in a "cone of silence" among the royals.
Meghan later sent her father a handwritten letter begging him to stop speaking to tabloids — which he later released to a tabloid, allegedly to clear his name after he'd felt wronged by several of her friends who'd spoken about their difficult relationship in the media.