Meghan Markle's estranged father Thomas hits out again claiming she "destroyed" the royal family
Publish Date

Monday, 20 January 2020, 9:59AM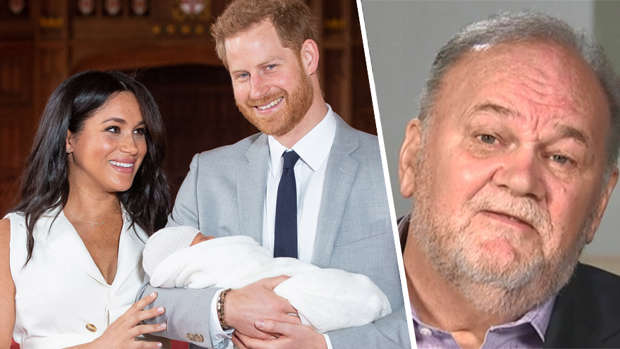 Meghan Markle's estranged father Thomas Markle had been keeping a low profile for a few months now ... that was until the Duke and Duchess of Sussex announced they would be stepping back as senior members of the royal family and would be becoming "financially independent."
The 75-year-old former lighting director has spoken for the second time since the news broke, accusing his daughter of "destroying" the royal family.
Thomas - who hasn't seen his daughter since before she married Prince Harry in May 2018 - told the UK's Channel 5 he believes the couple are "turning into lost souls."
"They are turning it [the royal family] into a Walmart with a crown on," he said.
"When they got married they took on an obligation, and the obligation is to be part of the royals and to represent the royals. And it would be foolish for them not to.
"This is one of the greatest long-living institutions ever. They are destroying it, they are cheapening it, making it shabby ... they shouldn't be doing this."
Thomas also claimed Meghan has turned her back on every little "girl's dream" by deciding to distance herself from the royals.
READ MORE:
• Prince Harry and Meghan Markle share their first family Christmas snap starring baby Archie
• Prince Harry shares heartbreaking revelation camera flashes remind him of Princess Diana's death
He continued: "With Meghan and Harry separating from the royals ... it's disappointing because she actually got every girl's dream.
"Every young girl wants to become a princess and she got that and now she's tossing that away ... it looks like she's tossing that away for money."
He then went on to reference their refurbished home, Frogmore Cottage, adding: "Apparently US$3 million and a 26-room home isn't enough for them ... it is kind of embarrassing to me."
In a statement posted to their Instagram account, Harry and Meghan announced the would be stepping down, writing: "After many months of reflection and internal discussions, we have chosen to make a transition this year in starting to carve out a progressive new role within this institution.
"We intend to step back as 'senior' members of the Royal Family and work to become financially independent, while continuing to fully support Her Majesty The Queen."
Harry and Meghan will be splitting their time between the United Kingdom and North America.
Over the weekend, the Queen announced Harry and Meghan will be losing their HRH titles and will "no longer receive public funds."
The breakaway couple will also have to re-pay the £2.4 million ($NZ4.7m) of taxpayers' money spent on renovating their Frogmore Cottage home.
The 38-year-old former actress has been estranged from her father since he famously skipped her and Prince Harry's wedding last May amid fallout stemming from the staged photo scandal and him repeatedly speaking about the Sussexes to the press.