Piers Morgan slams Prince Harry and Meghan Markle over their "staggering disrespect" of the Queen
Publish Date

Tuesday, 25 February 2020, 11:15AM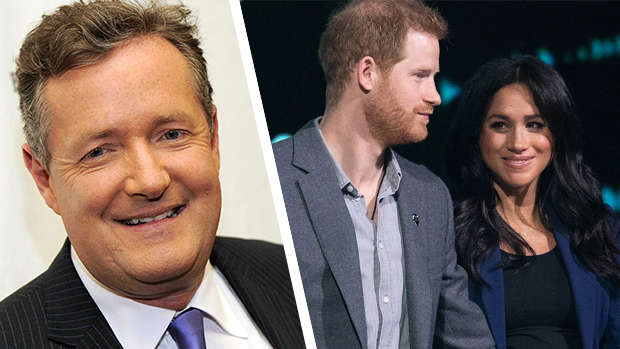 Prince Harry and Meghan Markle have been criticised by Piers Morgan for showing "staggering disrespect" to Queen Elizabeth II after she forced them to drop the Sussex Royal brand name.
As well as giving up their HRH titles for work purposes and abandoning official appointments and patronages – including Harry's military roles – the Duke and Duchess of Sussex must now drop 'royal' from their brand name after deciding to step down as senior members of the royal family.
Following lengthy and complex talks, the Queen and senior officials agreed it was no longer tenable for the couple to keep the word "royal" in their branding.
Unhappy with the Queen's decision, the Sussexes took to their website to release a sour-sounding statement announcing they would stop using the word 'royal' in their branding, before adding that the Queen does not own the word internationally.
"As The Duke and Duchess will no longer be considered full-time working members of The Royal Family, it was agreed that use of the word 'royal' would need to be reviewed as it pertains to organisations associated with them in this new regard," the statement read.
"While there is not any jurisdiction by The Monarchy or Cabinet Office over the use of the word 'royal' overseas, The Duke and Duchess of Sussex do not intend to use 'Sussex Royal' or any iteration of the word 'royal' in any territory (either within the UK or otherwise) when the transition occurs Spring 2020."
Following their statement, Piers Morgan weighed into the royal debate, accusing Harry and Meghan of bing disrespectful to Harry's 93-year-old grandmother.
"The staggering disrespect these two keep showing to the Queen is outrageous," he said on Twitter.
READ MORE:
• Prince Harry and Meghan Markle share their first family Christmas snap starring baby Archie
• Prince Harry shares heartbreaking revelation camera flashes remind him of Princess Diana's death
"Who the hell do they think they are?"
The couple's lives as working royals will end on 31 March when they stop representing the Queen and become financially independent.
Following their decision to step down, the Duke and Duchess will need to rebrand their Instagram account, which uses the name SussexRoyal, as well as the website they recently spent tens of thousands of pounds on.
The pair quit the royal family this year to start a new life together in Canada with their son Archie.