Prince Harry and Meghan Markle fans get update on baby Archie ahead of his first birthday
Publish Date

Wednesday, 15 April 2020, 3:35PM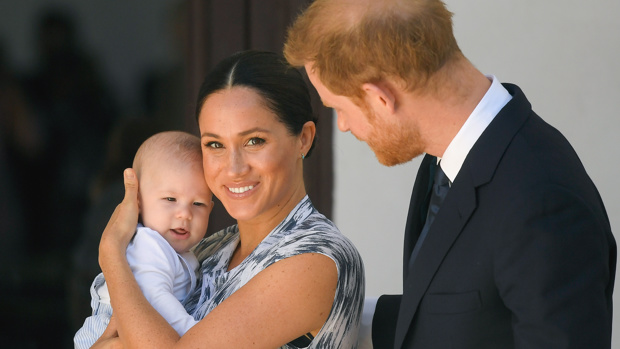 As Archie Harrison's first birthday approaches it sounds like he'll be walking and talking his way through celebrations!
Royal reporter Katie Nicholl has revealed that the 11-month-old is adjusting very well to his new life in Los Angeles with mum Meghan Markle and dad Prince Harry.
Nicholl said: "I spoke to someone who had been sent a video of Archie a few weeks back. He said that he is super cute and a really, really happy little boy.

"He's burbling and sort of desperate to talk, but certainly already mastered cruising and is well on his way to walking.
"He may even be walking already. I was told [he's] very cute, very, very happy, and a very confident little boy."

The Duke and Duchess of Sussex moved to Malibu to be closer to Meghan's mother Doria Ragland, but they have yet to see one another in person due to the coronavirus pandemic and are instead relying on technology.
Nicholl added: "My understanding is that they've been keeping in touch through social media, not actually seeing each other in person, which must be incredibly hard for Meghan being so close to her mother, just a matter of miles away.
READ MORE:
• Prince Harry and Meghan Markle flee Canada in coronavirus panic
• Prince Harry and Jon Bon Jovi's song 'Unbroken' has officially been released!
"And equally difficult, one would imagine, for Doria because she hasn't been able to see Archie. But I am told by reliable sources that they're taking social distancing and the government guidelines very seriously indeed."
Meanwhile, conservationist and primatologist Jane Goodall has revealed Harry has been finding life "a bit challenging" recently.

During a Radio Times interview, she shared that she has been "in touch" with her friend, who recently stepped back from his senior position in the royal family.
"I don't know how his career is going to map out, but yes, I've been in touch, though I think he's finding life a bit challenging just now."
Take your Radio, Podcasts and Music with you