Prince Harry and Meghan Markle release official photos from Archie's christening - with a tribute to Diana
Section

News,

Publish Date

Sunday, 7 July 2019, 10:06AM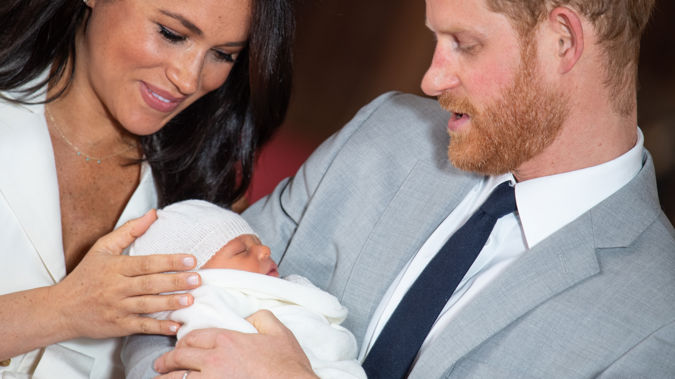 Ultimately, Prince Harry and Meghan Markle chose to keep baby Archie's christening a completely private affair, giving neither the press nor the public a peek at their son.
However, just a few hours after the ceremony took place in the Queen's private chapel at Windsor Castle, the Duke and Duchess of Sussex released two beautiful official family portraits from their son Archie's christening.
And talk about proud parents!
The youngest member of the royal family was christened on Saturday before an intimate gathering of family and friends.
While the guest list for the christening was kept to a mere 25 people, Harry kept Princess Diana's memory alive, inviting his late mother's sisters to be a part of the festivities.
In the first photo, the Sussexes are surrounded by Prince Charles and his wife, Camilla; the Duke and Duchess of Cambridge; Meghan's mother Doria Ragland; and two of Diana's siblings: Lady Sarah McCorquodale and Lady Jane Fellowes.
Furthermore, royal fans may notice the similarities with that of Harry's own christening back in 1984, since the royal couple chose to have their photographs taken on the iconic green sofas in Windsor Castle, just like Princes Charles and Diana.
It is also a particularly special spot for Harry and Meghan as they also took their official wedding portraits in the castle's Green Drawing Room.
The second portrait is black and white toned and shows the Duke and Duchess with their son at Windsor Castle with the Rose Garden in the background.
READ MORE:
• Royal biographer reveals what Princess Diana would have really thought of Meghan Markle ...
• Meghan Markle blasted after secretly redesigning her engagement ring from Prince Harry
The 37-year-old former actress, who wore a bespoke midi dress by Dior, can be seen gazing at her husband as she holds her two-month-old son in her arms.
Little Archie, who turned exactly two months old on the special day, wore the handmade replica of the traditional Honiton christening gown.
After clothing 62 royal babies for their christenings over 163 years, the original gown was deemed too fragile to use in 2004 and the Queen commissioned a copy, which has been used ever since.
Archie is the tenth royal tot to wear the christening gown.
In accordance with royal tradition, The Lily Font and water from the River Jordan were used during the christening, which was officiated by the Archbishop of Canterbury, the Most Reverend Justin Welby.
According to royal reporter Omid Scobie, members of the St George's Chapel Choir sang at the ceremony.
Archie's great-grandmother Queen Elizabeth II was, unfortunately, unable to attend because of a prior commitment - her busy schedule meant she also missed the christening of Archie's cousin Prince Louis last year.
No doubt royal fans were thrilled to see the stunning photographs!