Prince Harry has just teased a surprise collaboration with Ed Sheeran
Publish Date

Thursday, 10 October 2019, 11:55AM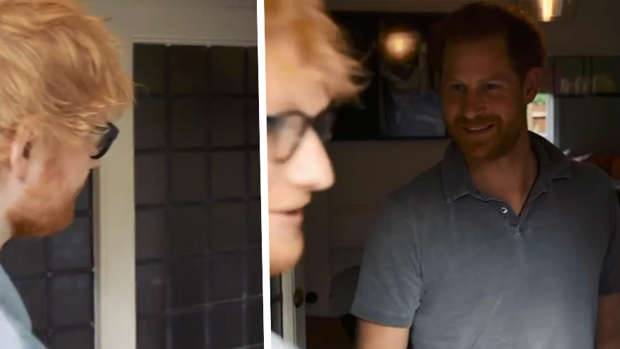 Prince Harry and Ed Sheeran are officially teaming up!
That's right, our two favourite redheads have just teased a surprise collaboration on social media, with the pair meeting at what appears to be the Duke of Sussexes' residence at Frogmore Cottage.
In a sneak peek video, posted to the Sussex Royal Instagram account, Ed can be seen knocking on a front door while the doorbell plays the melody of 'God Save the Queen.'
The 35-year-old royal opens the door and happily greets his guest, saying: "Hi, mate."
"Hey mate, how are you doing?" Ed asks as he shakes Harry's hand.
"Nice to see you. It's like looking in the mirror," Harry jokes in reference to the 28-year-old pop star sharing his statement red hair and wearing a matching grey polo shirt.
"Do you mind if I bring the cameras in?" Ed asks, to which Harry replies: "Of course, yeah, come on in guys."
READ MORE:
• ROYAL TOUR: Baby Archie makes first official public appearance looking just like Prince Harry
• Prince Harry caught on camera "snapping" at reporter amidst attack on British media
A message then appears on the screen: "Coming soon… 10 October #WMHD."
While it's unsure what exactly their collaboration will be (we're hoping it's a duet!), the secret project will be in honour of World Mental Health Awareness Day.
The project won't be the first time Harry and Ed have been linked, as the 'Shape of You' singer has had many ties to the royal family.
In addition to receiving an MBE in recognition of his services to music and charity from Prince Charles, the Grammy Award winner has a scar on his face from when his friend Princess Beatrice reportedly scratched him with a sword during a mock knighthood ceremony at a party.
It was also rumoured Ed performed at Harry and Meghan Markle's royal wedding.
Harry was also once mistaken for Ed by a group of schoolgirls in 2017.