Why Prince Harry and Meghan Markle didn't invite Princess Diana's brother to Archie's christening
Publish Date

Tue, 16 Jul 2019, 9:50AM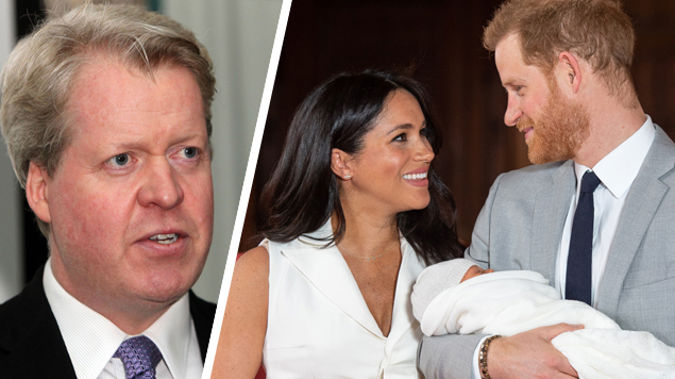 Why Prince Harry and Meghan Markle didn't invite Princess Diana's brother to Archie's christening
Publish Date

Tue, 16 Jul 2019, 9:50AM
When Prince Harry and Meghan Markle celebrated the christening of their son Archie Harrison Mountbatten-Windsor, the royal couple paid tribute to the late Princess Diana by inviting her sisters, Lady Sarah McCorquodale and Lady Jane Fellowes, to attend the family event.
But in a family portrait released hours after the christening took place, one major player was not in attendance: Diana's brother, Charles Spencer.
And apparently, there's a serious reason why.
While he was giving a speech at the Winchester Festival in Hampshire to promote his book To Catch A King: Charles II's Great Escape, the 55-year-old earl reportedly wasn't invited because of a long-running feud with the royals.
"It was no surprise that the Earl was not at the christening as he and Harry have been distant for a long time now," a source told The Sun.
"The falling out goes back years and it is hard to see them ever making amends."
"Harry has always been closer to his aunties and he is not a big fan of Charles or his wife." 
Tensions between Charles Spencer and the royals are believed to have started following Diana's split from Prince Charles in 1993.
He famously condemned the royal family at Diana's funeral and criticised the removal of her HRH status.
According to The Sun, Earl Spencer's relationship with his nephews also became frosty after several letters found at Diana's home in 2002 suggest that he had turned down her request to move into the family's Althorp estate after her separation from Prince Charles became public.
READ MORE:
• Royal biographer reveals what Princess Diana would have really thought of Meghan Markle ...
• Kate Middleton is now being slammed for her Princess Diana tribute at baby Archie's christening
The "People's Princess" had wanted to move into the Garden House on the estate, but her brother ended up refusing the request.
"I am sorry but I have decided that the Garden House is not a possible move. There are many reasons, most of which centre on the inevitable police and press interference that will follow. I know you will be disappointed but I know I am doing the right thing for my wife and children. I am just sorry I cannot help my sister!" he wrote.
Many hoped that the long-running tension between them had been put to bed in May last year when Charles and his third wife Karen Gordon attended the Duke and Duchess of Sussex's wedding, however, they were seated at the back of St George's Chapel away from the friends of the bride and the groom.
In addition to Princess Diana's sisters, Meghan's mother, Doria Ragland, Prince William, Kate Middleton, Prince Charles and Camilla Parker-Bowles were all in attendance at the private christening at Windsor Castle.
According to reports, a total of 25 guests attended the intimate affair.