Bradley Walsh left speechless by contestant's hilariously rude innuendo comment
Publish Date

Monday, 13 January 2020, 11:17AM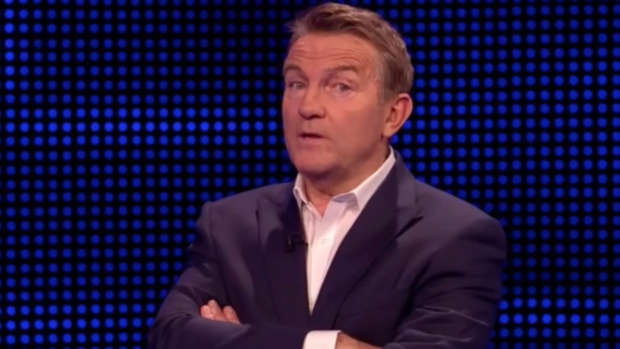 Bradley Walsh was left utterly speechless on The Chase bloopers edition over the break when one contestant accidentally said a very rude double entendre.
As Bradley got to know the young man before he faced off against the chaser in the Cash Builder round, it was revealed the quizzer enjoyed dressing up as TV characters at Comic Cons and that he'd "been to about 30 of them."
To which the popular host replied: "I think they're great, I turned up at the one at the Excel Centre and there were all these people walking around, I was thinking 'What's going on?'
"Then someone told me and I thought it was brilliant."
"I might have bumped into you," the contestant told Bradley.
"You might have done. I was dressed up as me," Bradley joked by way of reply.
But that wasn't the end of the chat ...
Bradley added, referring to his role as Graham O'Brien: "I'm going to have to start going to Comic Cons now that I'm in Doctor Who."
"Yeah, I might dress up as you," the contestant replied.
"Do that! Be Graham!" Bradley enthused before he received a response that left viewers in stitches and himself lost for words.
"Do you think I could pull you off?" the contestant earnestly enquired.
READ MORE:
• The Chase bosses have put "plans in place" to help Paul Sinha through his health battle
• The Chase's Mark 'The Beast' Labbett reveals the health issue behind his dramatic weight loss
The hilarious exchange has since gone viral on Twitter, with fans declaring it as the most amusing piece of TV they've ever seen.
"This absolutely killed me the other day," tweeted one entertained watcher.
"That moment when he realises what he's said," wrote someone else.
A third person laughed: "Was in tears watching this."
While a fourth added: "This is the funniest thing I have ever watched!"