Stubborn dog goes viral with heartwarming video
Publish Date

Friday, 9 August 2019, 4:38PM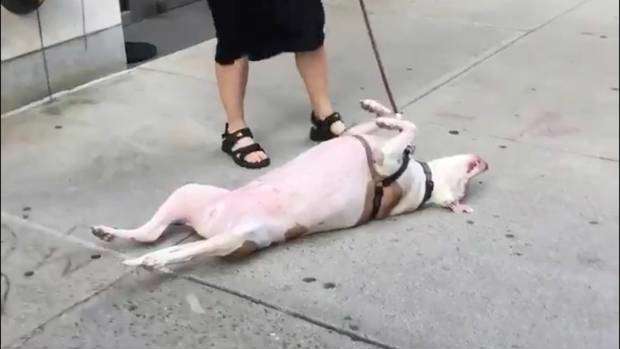 A video of a dog refusing to walk for its owner has warmed hearts across the world after being shared on Twitter.
When New Yorker Steph Haberman captured a hilarious moment between a dog and its owner she knew she had an antidote to the grim mood that has descended on the US since the mass shootings in El Paso and Dayton last weekend.
The video has now been viewed over three million times.
"Not EVERYTHING is bad," wrote Haberman. "Like this dog I met yesterday who did NOT want to walk anymore. She is good!"
The video shows a dog owner pleading with her dog to move while the dog lies belly up on the pavement, even shaking the dog's paw in an effort to rouse her.
READ MORE:
• This dog-shaped cloud is going viral as proof that all dogs go to heaven
• Science has just proved dog owners are happier than cat owners ...
Haberman was thanked for playing a part in lifting the mood of a nation: "That dog has no idea how badly we need her right now,' one person wrote.
Another commented: "The internet is a crazy thing. Thanks for sharing, this warmed many hearts."
This article was first published on nzherald.co.nz and is republished here with permission.