Fans notice Meghan Markle's redesigned engagement ring looks a lot like the one her ex gave her
Publish Date

Thursday, 29 August 2019, 10:00AM
While it was revealed earlier this year that Meghan Markle had redesigned the engagement ring given to her by Prince Harry - royal fans have only just noticed the changes she made make the band look very similar to the engagement ring given to her by her ex-husband, Trevor Engelson.
The Duchess of Sussex showed off the altered sparkler - which features two of her late mother-in-law, Princess Diana's diamonds - while presenting her newborn son Archie Harrison at Windsor Castle in May and again at Trooping the Colour in June.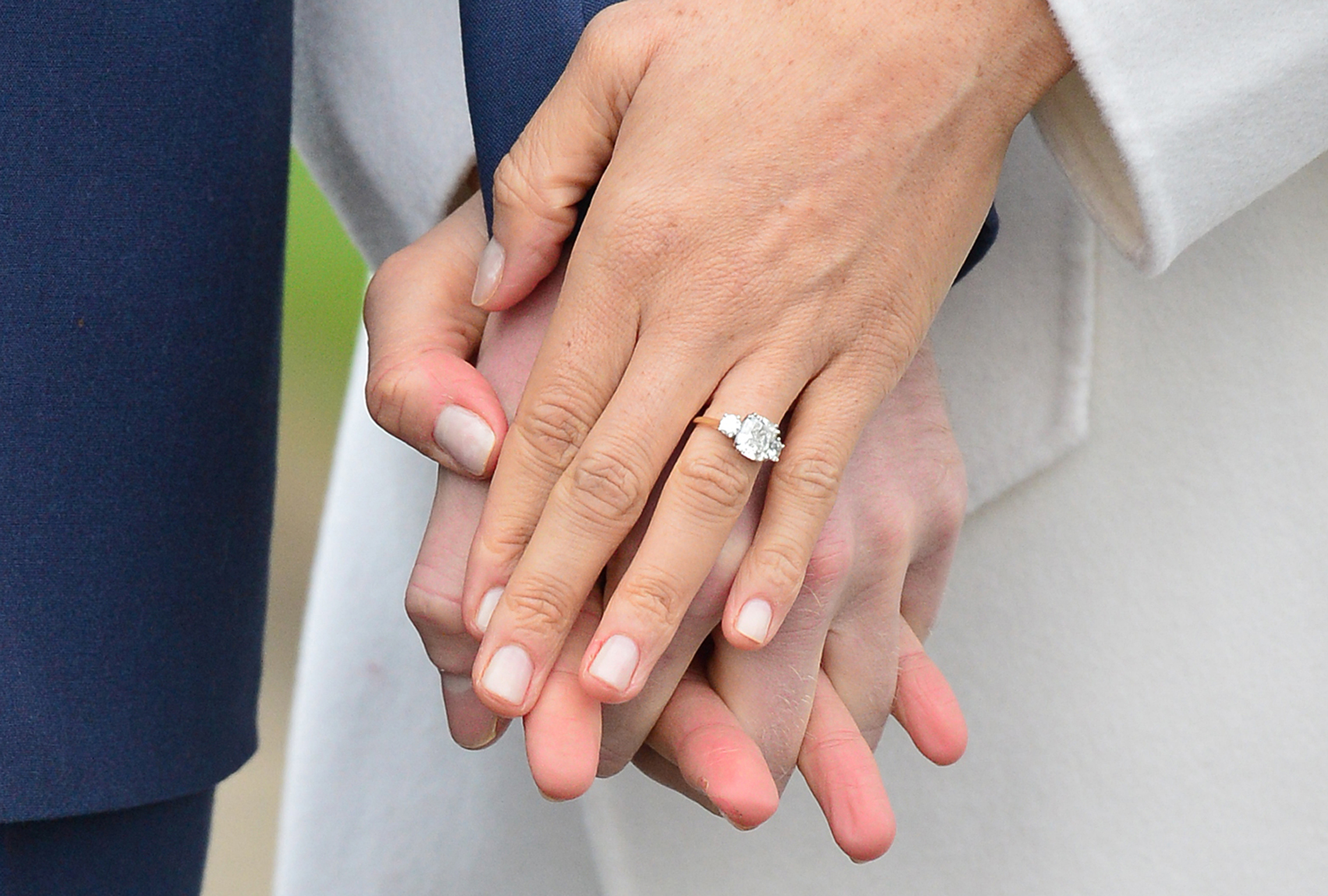 The Duchess of Sussex's engagement ring in 2017.
Originally designed by the Duke of Sussex himself, the 34-year-old royal had put a lot of thought into designing the ring - which is estimated to have cost £122,500.
The three-stone ring - which was made by Cleave and Company, Court Jewelers and Medalists to Her Majesty The Queen - boasts a large cushion diamond in the center from Botswana, where the pair vacationed early on in their relationship, and is flanked by a pair of smaller round side stones from Princess Diana's personal collection.
But the beautiful piece of jewellery underwent a dramatic transformation and now features a thin micro-pavé band as opposed to the original yellow gold one.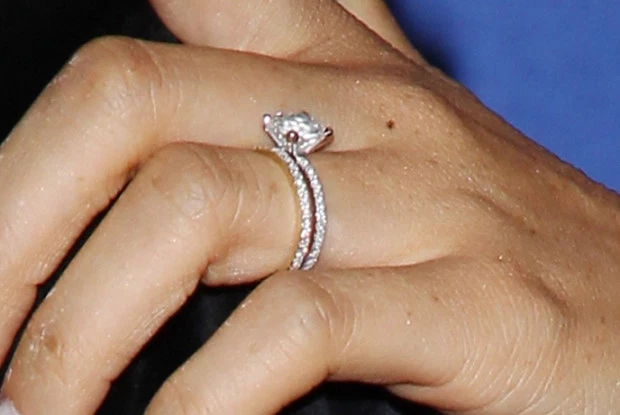 The Duchess of Sussex's engagement ring from Trevor Engelson.
While Trevor presented Meghan with a very similar rock when he popped the question.
The 42-year-old film producer selected out an engagement ring from Tiffany & Co. that also featured a diamond band and had a large diamond set in the centre for £20,000.
READ MORE:
• Meghan Markle to visit Princess Diana's grave for the first time on the anniversary of her death
• Prince Harry and Meghan Markle have been slammed as being 'hypocrites' after holiday in Ibiza
So, of course, fans took to social media to point out the similarities.
One wrote: "She has redesigned her ring to look like the one Trevor gave her!!! How embarrassing for Haz!!"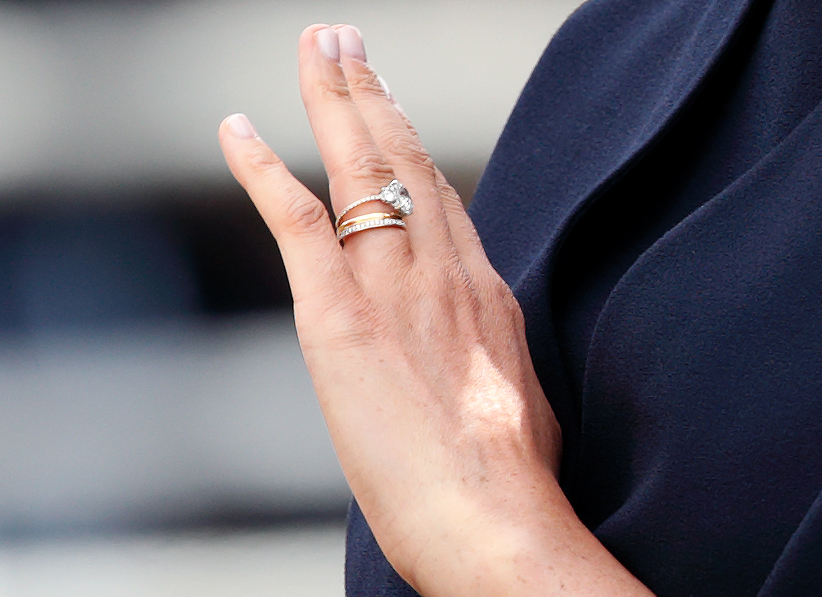 The Duchess of Sussex's engagement ring now.
Another added: "Meghan new added bling looks strikingly similar to her engagement ring from Trevor."
"Meghan's new ring looks just like the one her ex-husband, Trevor, gave her!" said a third.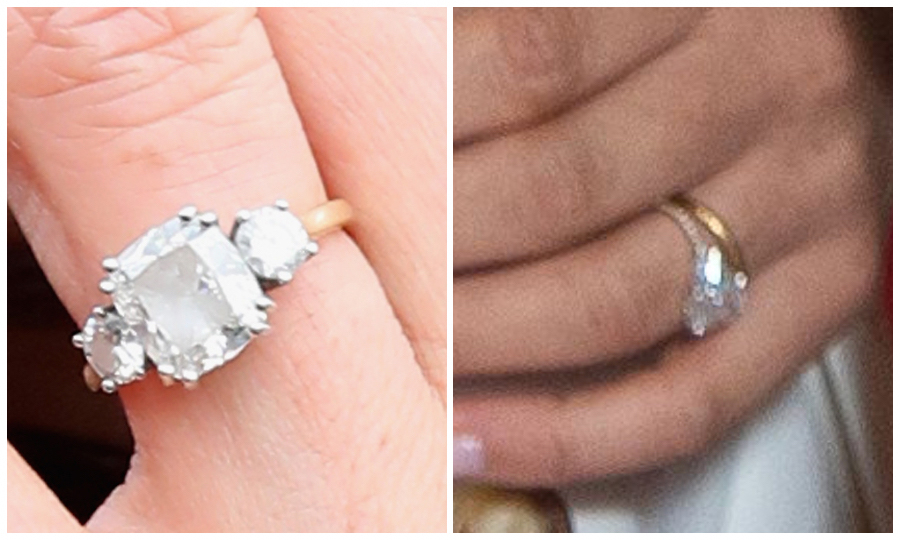 Trevor first met Meghan in 2004, when she was just 23, shortly after she entered the film industry. He acted as her mentor in the industry and was even responsible for her cameo in the Robert Pattinson film Remember Me in 2010.
They later began dating and were together for seven years before tying the knot in front of 107 guests during a four-day celebration in September 2011, at the luxurious Jamaica Inn in Ocho Rios.
But they divorced in 2013, with the couple citing irreconcilable differences due to her filming schedule in Toronto for Suits and him working in Los Angeles.
 According to excerpts from Andrew Morton's book Meghan: A Hollywood Princess, the marriage ended very suddenly.
"A wealthy entrepreneur friend claimed the marriage ended so abruptly that Meghan sent her wedding and engagement rings back to Trevor by registered post. Another source confirmed that the decision to end the marriage was made by her and that it had come 'totally out of the blue'."