Meghan Markle's best friend slams British people for being racist following private jet criticism
Publish Date

Thursday, 22 August 2019, 12:03PM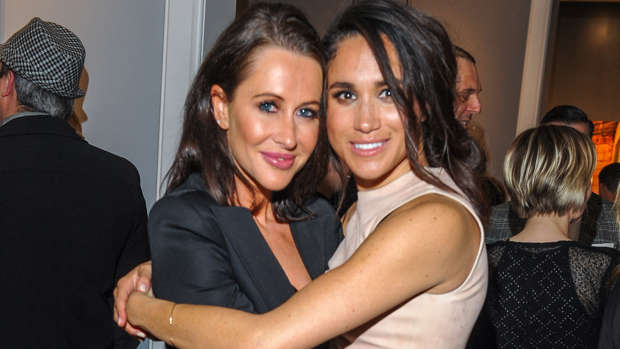 Following on from Sir Elton John, Meghan Markle's best friend Jessica Mulroney has made a rare public statement to defend the royal following criticism of her and Prince Harry taking a private jet to Ibiza and Nice for her 38th birthday.
The royal couple - who have a reputation for being "eco-warriors" - have now been labelled as hypocrites for not considering their carbon footprint with the environmentally-damaging flights.
And the 39-year-old stylist has now come to her friend's defence.
Posting on Instagram, Mulroney shared an image of text expressing her thoughts on the treatment of Meghan.
"When someone faces unfair criticism, you call it out," she wrote in the photo.
"When that person is your friend and your family, you call those critics what they truly are."
"Shame on you, you racist bullies," she added, alongside the caption: "3 years of undeserved hate and abuse. It's enough."
The stylist – who is married to Ben Mulroney, a broadcaster and TV presenter who is the son of former Canadian prime minister Brian Mulroney – and the Duchess of Sussex have been friends for several years.
Mulroney's three children – John, Brian, and Ivy – also served as the page boys and flower girl, respectively, at Harry and Meghan's royal wedding at St George's Chapel.
READ MORE:
• Prince Harry and Meghan Markle honour Princess Diana with touching post for the first time
• Meghan Markle blasted after secretly redesigning her engagement ring from Prince Harry
Several celebrities have tweeted in support of the royal couple over the past few days, including The Good Place actress Jameela Jamil - who also accused the media and English people of being racist.
"Ugh. Dear England and English press, just say you hate her because she's black, and him for marrying a black woman and be done with it Goddammit. Your bullying is so embarrassing and obvious. You've all lost your marbles. It's 2019. Grow up," Jamil wrote.
"And ALSO, it's not safe for us to be on the same planes as royals or presidents you absolute muppets. They are prime targets for kidnap and sometimes assassination. It's in the interest of us civilians to not be endangered by proximity to people in such powerful positions."
Mulroney's rare statement comes after former royal protection officer, Ken Wharfe - who protected Princess Diana and her sons Prince William and Harry in the '90s - called the Sussexes "hypocritical."
"Harry can't be preaching about the catastrophic effects of climate change whilst jetting around the world on a private plane," Wharfe told Vanity Fair.
"We always flew commercial; in fact, I don't remember flying private. It's no guarantee that security is any better. You're better off with BA security because they're used to working with VIPs."